13 Feb

A Wine-Loving Traveler's Gem: Riebeek Kasteel

Riebeek Kasteel, South Africa is a town with many attractions. The art, the countryside, and the history call many travellers from far and wide. However, it is the wine—paired perfectly with the landscape and art scene—that is especially magnetic to visitors. If you love good art and good wine, you'll love Riebeek Kasteel! Here's an overview of the town and the wine-lovers activities you can enjoy there.
History
Riebeek Kasteel, named for famous South African figure Jan van Kasteel, is one of the oldest towns in South Africa. Not only is it one of the oldest European settlements, but it's also one of the most ancient villages. It's little wonder that so many people have decided to live in this location—it's absolutely beautiful! The town is nestled into the edge of the Riebeek Valley, where grapes and olives have been grown for generations. Besides an agricultural heritage, the town also has architectural heritage. It's home to some of the oldest buildings in South Africa, including the oldest hotel in the country.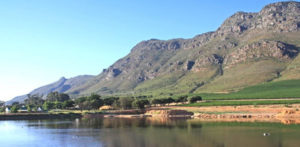 Countryside
The natural world around Riebeek Kasteel looks a bit like the Italian countryside. Grapevines and olive trees dominate the cultivated part of the landscape, while the wilder slopes of the valley are no less captivating. This, of course, has attracted a thriving art scene in Riebeek Kasteel—something that makes wine touring that much more classy and delightful. Many of South Africa's most famous artists have made a home in Riebeek Kasteel in order to live in the midst of such beauty and capture in on canvas in a thousand different ways. Before you leave, be sure to browse the art galleries to see the many artistic renderings of the surrounding area. You can even take home a painting to keep a piece of Riebeek Kasteel in your own house, wherever in the world you live.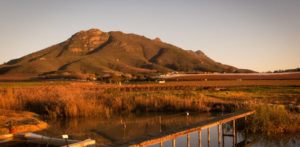 Wine Scene
Riebeek Kasteel is a wine lover's paradise. There are plenty of vineyards to visit, wineries to tour, and glasses to sip from. Start your wine journey at Kloovenburg Wine Estate. Here, you can try it all—and we don't mean just the different wines. Drive through the picturesque vineyards to the cellars, where you can tour through the barrels before relaxing with a glass of liquid red heaven. Next, visit Meerhof Wines, where you'll get to see the cellars where traditional wine is made. Using no modern techniques or commercial yeast, the wine from Meerhof Wines is one hundred percent traditional, and it tastes wonderful. Mullineaux Family Wines also creates traditional wines. Five varieties of grapes and a dedication to local flavours and processes are the key ingredients to the unique wines that come from Mullineaux Family Wines. Of course, you'll want to get an overall wine tasting tour in addition to visits to individual vineyards. For a local wine tasting tour in Riebeek Kasteel, attend a wine tasting at Het Vlock Casteel. This tour will take you through a gastronomic adventure of all of the offerings of Riebeek Kasteel. You'll get to taste the many wines in the area, and you'll also get to sample local olive oil, jams, fruits, and more. A wine-tasting tour like this is the best way to get to know the flavours and culture of South Africa's Riebeek Kasteel.
If you're a lover of wine and art, there's no better place to visit in South Africa than the lovely town of Riebeek Kasteel! Enjoy the history, the art, the countryside, and, of course, the wine in this little corner of Africa. You'll love experiencing the best of South Africa's wine scene and see a side to the great continent of Africa that you never expected to see. Who knew Africa could produce such incredible wines? See it for yourself (or rather taste it for yourself) to understand why travellers from around the world continue to flock to this little town in the South African hills.