04 Sep

The best markets to visit in Cape Town & Johannesburg

South Africa in general is an incredible place to visit and if you're lucky enough to live in this diverse and eclectic country, you'll have experienced this in one way or another. From the roaming mountains to the vibrant rural communities and buzzing cities, there's always something to do. However, one of the favourite local activities is to set aside time on the weekend to visit the local market.

Depending on which area you're in, these markets will vary in character. In Cape Town's city centre and surrounding suburbs, you'll often find crafts, music and a selection of divine eats on offer. The Winelands tend to be more focused towards relaxation and family days out, while in Johannesburg, they are slightly less esoteric at times than Cape Town's but also offer a selection of beautiful hand-crafted souvenirs, and everything from fast-food favourites to gourmet snacks.

Top 5 markets to visit in Cape Town and Johannesburg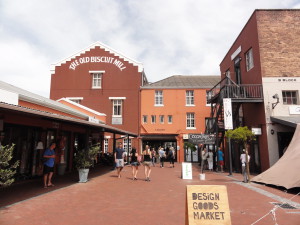 1.The Old Biscuit Mill Market Cape Town: One of Cape Town's favourite market, the daily affair at the Old Biscuit Mill is the perfect way to spend an afternoon or evening with friends. With a range of gourmet eats and tasty favourites, as well as designer stores, crafts and collaborations, there's something for everyone to enjoy. Expect a packed market on the weekends especially, as it's a local favourite.
2.The Stellenbosch Slow Market: The Slowfood Market in Oude Libertas, Stellenbosch is a fantastic place for food-lovers to enjoy a selection of slow-cooked meals. However, the market is also known for it's range of fine wines on offer, as well as the fact that it showcases green and sustainable crafts. It's held every Saturday from 9am to 2pm, regardless of the weather.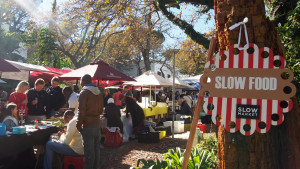 3. The Lourensford Market: Every Saturday and Sunday, you can enjoy the Lourensford Market from 10am to 3pm. Enjoy a range of fresh produce and crafts on offer in the scenic town of Somerset West. There's lots of space for kids to play at this family market, and locals love to bring along their bankets and enjoy a picnic.
4. Braamfontein Market, Johannesburg: The Braamfontein Neighbourgoods market is one of the most popular in Johannesburg, with local favourite eats and treats being hot chocolate and paella. The market runs every Sunday, come rain or shine, from 9am-3pm at 73 Juta street.
5. The Rosebank Market, Johannesburg: happens at 50 Bath Mall in Johannesburg, daily. It's a distinctly African market offering a exciting and authentic vibe to visitors – perfect for travellers looking for authentic souvenirs.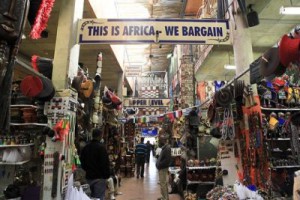 Make a trip of it
Take2Tours can help you make a day of it with a customised trip to these markets and more. Why not book a trip and see some of the best markets in Cape Town and Johannesburg with other stops along the way? This will give you the opportunity to enjoy yourself without having to worry about driving and you'll also have an experienced tour guide to help you enjoy the best markets.