16 Feb

The Best Wine Routes to visit around Cape Town

Cape Town is home to many incredible wineries and though we are regarded as a new world region, we have been making wines for the past 350 years. With our history, beautiful scenery and dramatic varying climates, we're one of the most exciting wine regions to visit.

When we think of the wines produced in and around Cape Town, we often limit our focus to the unofficial capital of the wine routes, Stellenbosch – closely followed by well-known locations such as Franschhoek and Constantia – and while these larger routes deserve their spotlight, with over 400 wineries to choose from, there is so much more to be discovered for every taste bud.

Stellenbosch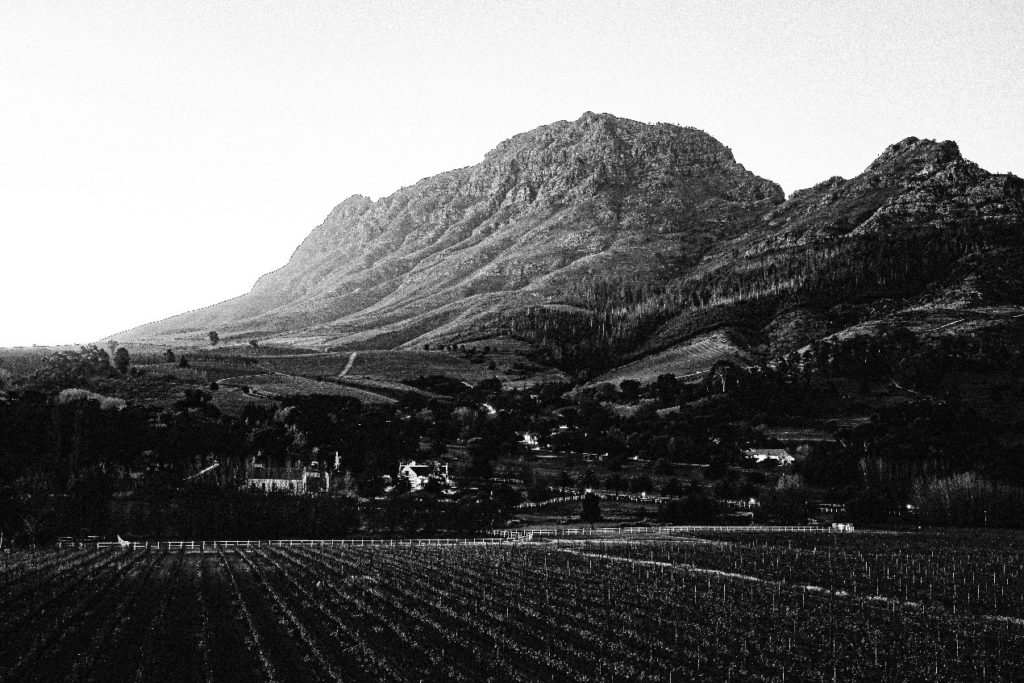 Perhaps one of our most well-known regions, Stellenbosch is synonymous world-wide with producing excellent vintages from a diverse range of cultivars. It boasts 200+ wine estates and showcases both family-owned wineries steeped in history, alongside modern state-of-the-art cellars.
Several of our strongest Cabernet Sauvignons can be found along the Stellenbosch wine route; if your tastes are for refined, elegant Cabernets, a trip to Delaire Graff – the epitome of luxury, atop the Botmaskop Mountain peak – will grant you an excellent tasting from their beautiful terrace with spectacular views of their sprawling estate; for expressive, fruit-driven examples, Tuscan-inspired Waterford Estate is home to numerous masterpieces.
Whilst it's possibly the marmite of the wine world, it's worth trying South Africa's very own cultivar, Pinotage, and do so with a visit to Kanonkop and Beyerskloof – masters of perfecting the dense bold flavours of blackberry and liquorice that make this red grape so moreish.
Chenin Blanc is also grown abundantly in the region and boasts concentration and freshness thanks to rich soils, and a bevy of top winemakers to nurture it. Sample its complexities at DeMorgenzon, perhaps the only winery to play Baroque and early classic music to their growing vines in the vineyards. We're not saying it works, but they have been doing it for the past 7 years and have an abundance of awards to their name.
Franschhoek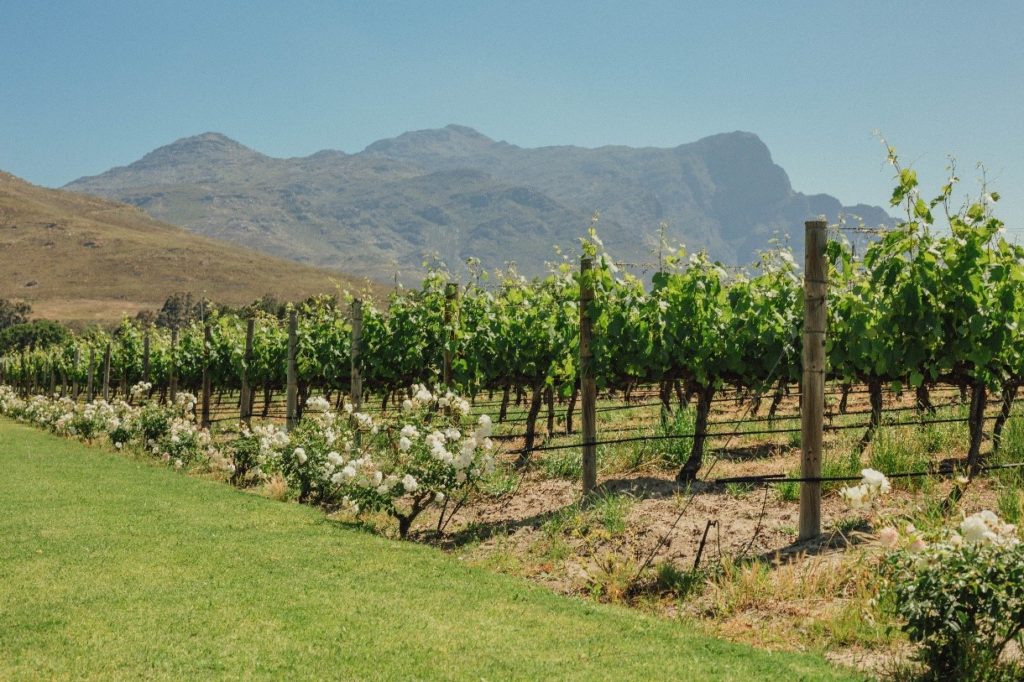 Known as the gourmet capital of South Africa, this beautiful pocket of fine vineyards and magnificent mountain ranges is a much-visited destination for food and wine lovers alike. Famed for its Methode Cap Classiques (MCCs), the finesse of the sparkling wines from this region, alongside its refined reds, make it a popular route to visit.
Le Lude have cemented their name as top MCC producers in the country. Established in 2011, their passion is to create premium quality bubbly from timeless, classic Burgundy varieties and their tasting room is a stunning example of Parisian influence.
Boschendal will please the nature lover, its splendid gardens frame the historic manner house – a fitting setting to savour bubbly in.
Recognized internationally, La Motte Wine Estate is a champion in tourism, and Syrah and Sauvignon Blanc. Their tasting room and the estate's Pierneef à La Motte restaurant serve a comprehensive Food and Wine Experience that aims to introduce innovative ways of enjoying the nuances of taste and smell in wine and food.
Constantia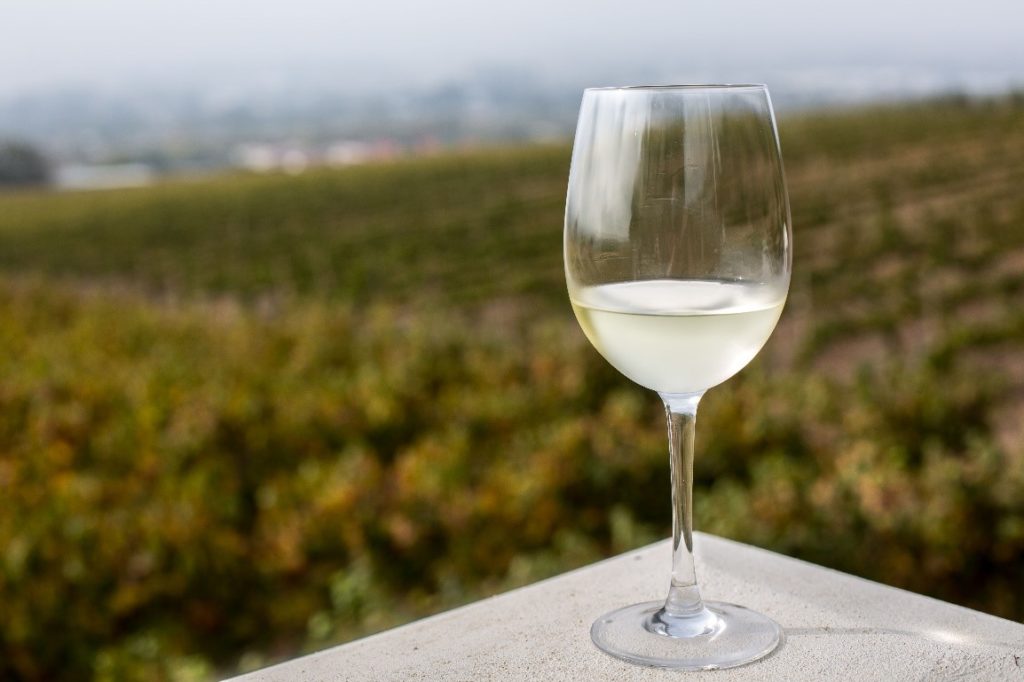 Spearheaded by the grand history of Groot Constantia – the oldest wine producing estate in Cape Town – the Constantia wine route houses both classic and contemporary estates with a focus on white wines thanks to its proximity to the sea and the cooler air.
For an incredible vista that almost (almost) overshadows the fantastic food and wine it offers, Beau Constantia rises 350m above sea level and if you thought the views from its tasting room were phenomenal, wait till you take a trip to the glass-fronted restrooms.
Best known for producing Vin de Constance, one of the world's leading sweet wines, Klein-Constantia is both formidable in its historical presence as well as in its beauty and design.
Open late in the evenings in summer, sundowners have never looked, or tasted, as good as they do at Constantia Glen. It's modern, light tasting room showcases the poise and restraint of their wines.
Robertson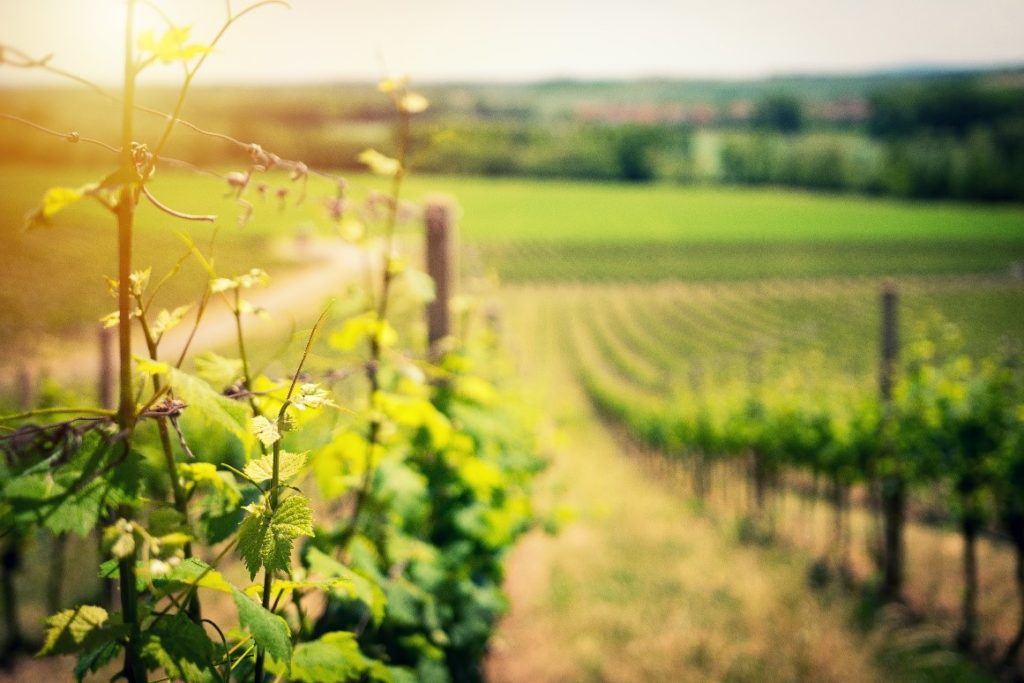 Known as the valley of vines and roses, Robertson is a charming getaway steeped in family tradition. Sweeter, fortified wines find their stride here, benefitting from the warmer climate and rich soils, and their bold reds and classic white varietals have both local and international acclaim.
A leading ambassador of the classic French method of bubbly production, Graham Beck stands at the gateway of the valley offering showstopping MCCs – their blanc de blanc is a visit to the stars.
Chardonnay lovers will be well catered for at De Wetshof Estate, internationally renowned as a pioneer of Chardonnay and the first to plant the cultivar. They have no fewer than five spectacular Chardonnays, ranging from the serious to the dangerously easy drinking.
With a natural approach to winemaking, Springfield Estate is one of the jewels of the region. You'd be hard-pressed to find a South African who hasn't tasted one of their reds, and the Provincial-inspired estate with its picturesque dam enclosed by the Langeberg mountains could keep you enthralled for hours.
Bot River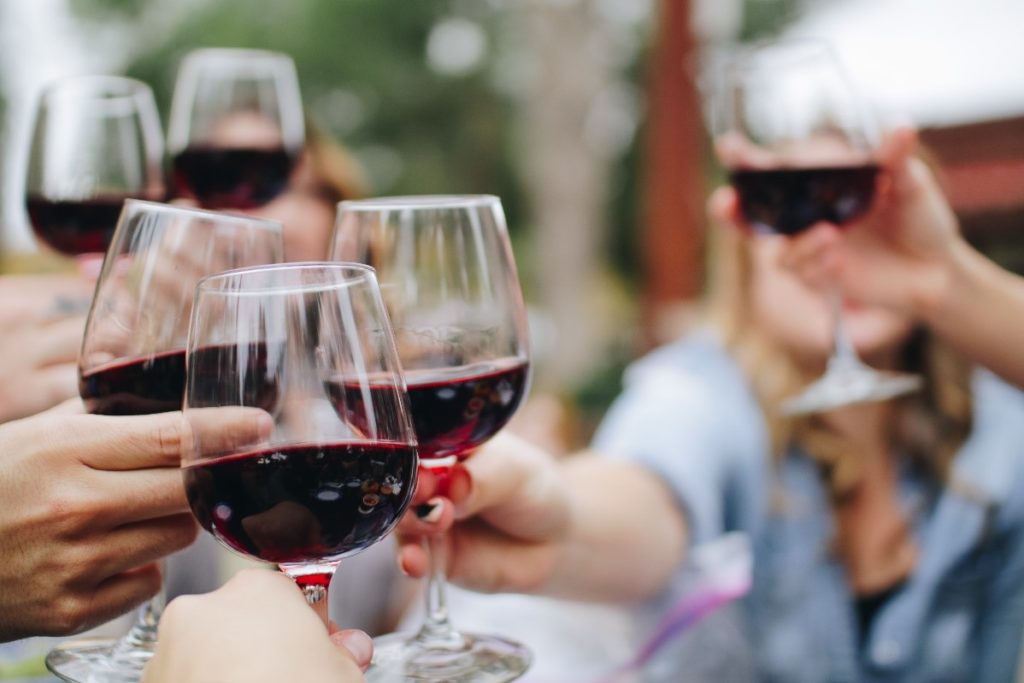 This endearing and often overlooked wine route celebrates living slowly and deliberately. A warm welcome awaits all who visit this beautiful pocket in the Overberg. With its down-to-earth, rustic charm, Bot River presents a unique love affair with wine.
Niels and Penny Verburg own Luddite Wines and produce mainly Shiraz, concentrating on making their wines as naturally as possible with minimal intervention. Pigs roam freely across the estate too…until they are turned into delicious sausages and charcuterie by Penny.
Family-owned winery Beaumont Family Wines has a passion for chenin blanc, and their richly expressive Hope Marguerite rakes in the accolades as easy as breathing.
Hemel-en-Aarde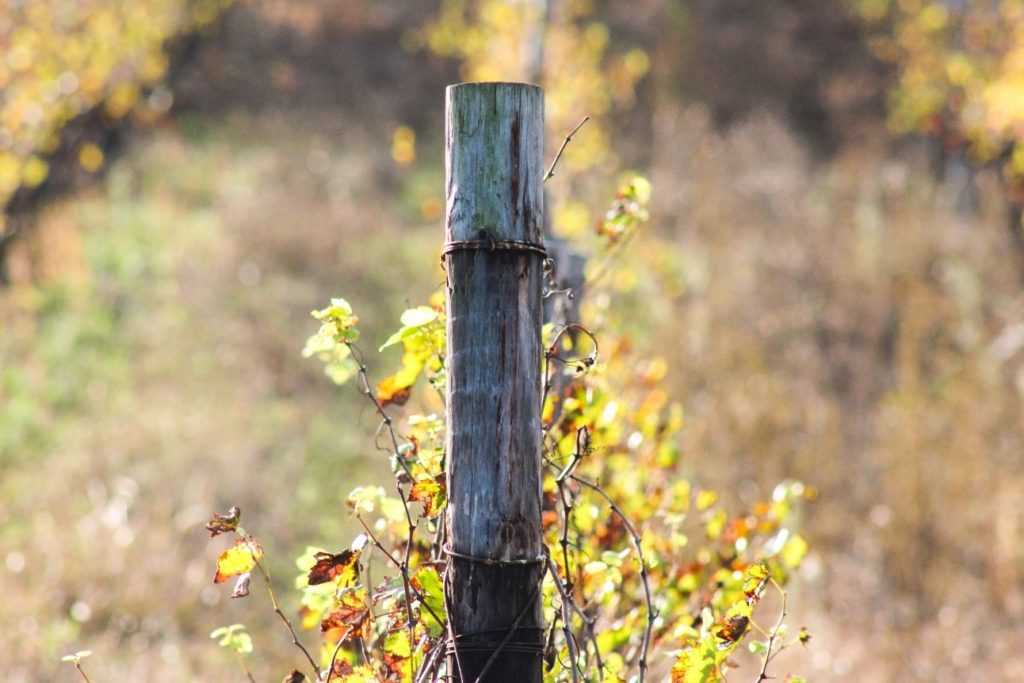 Meaning heaven and earth in Afrikaans, this breath-taking region in Hermanus produces some of the country's most critically acclaimed Pinot Noirs and Cawhardonnays. It is in this cooler, elevated climate that you can embark on a tour of exquisitely made wines from world-renowned winemakers.
Gastronomical excellence is heralded at Creation with a food and wine pairing like no other. The finesse of their Chardonnay and Pinot Noir is much sought after.
Restless River enjoys a long history of working closely with Cabernet Sauvignon and Chardonnay and their site-expressive wines rate highly in popular wine critic Jamie Goode's books.Hamilton Russel were the first to plant vines in the area and their burgundy-focused wines are expressive of their diligence and gentle practices
Elgin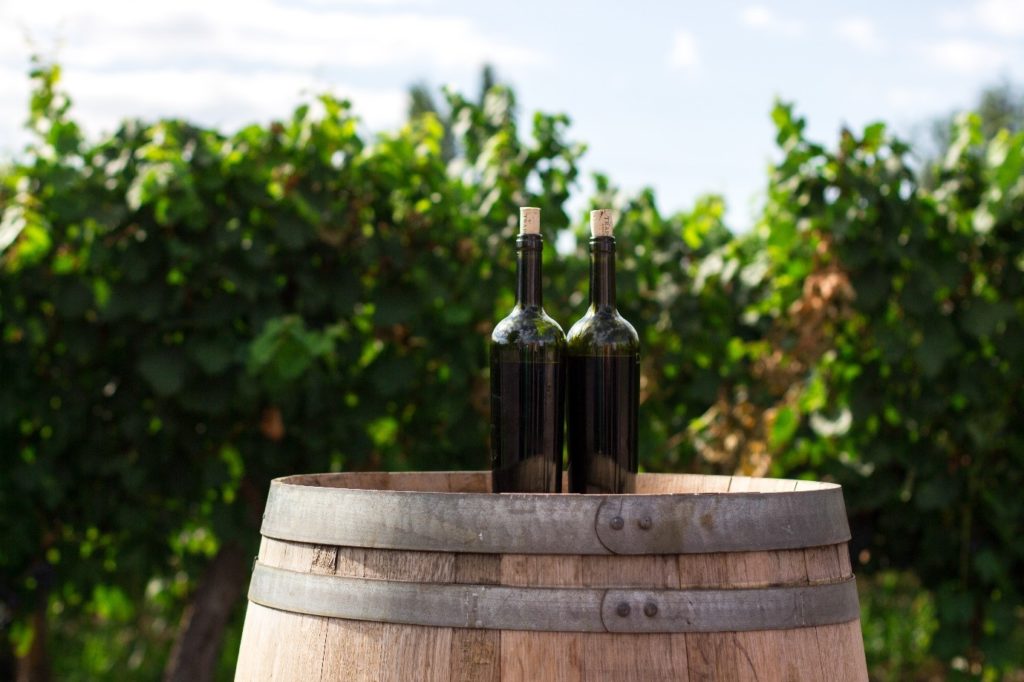 Exhibiting distinctly flavourful and striking wines of character, Elgin offers intimate tastings and sweeping forest and mountain views. Sauvignon Blanc, Chardonnay, Shiraz and Pinot Noir are the ruling parties, but this is a valley that encourages the individual pursuit of perfection and you will find stand-out wines to please all palates.
Richard Kershaw Wines offers one of the country's highest ranked chardonnays but hurry, if you want a vintage you had better set up camp outside his winery.
For benchmarks in chardonnay and Pinot Noir, a visit to Paul Cluver Estate Wines is a must and Almenkerk Wine Estate's state-of-the-art cellar, carved into the mountain slope, overlooks lush lawns that are popular for picnics and lazing on after one too many glasses of their acclaimed Syrah.
How long a wine tour lasts will be down to how many wine routes you wish to visit – it might be a good idea to extend your stay with us….