Take 2 Tours offers an extensive list of Special Interest tours in various locations.These tours have been carefully selected to give you a chance to experience the highlights of the country..Click on a tour below for more information
Adventure Tours

Take 2 Tours provides adventure tours for all age groups. We aim to provide the best deals, the best experiences, and the best customer service in the industry.
Balloon Safaris

The unique experience of hot air ballooning is, essentially a rather elegant, eccentric adventure in space and time.
Helicopters & Vintage Car Drives

Our helicopter flips in the Cape Town area, are an incomparable.
1 Day Shark Tour: Gansbaai

The great white shark is a wild animal in its own environment and we cannot guarantee sightings of, or dives with the sharks.
Cape Malay Cooking Tour

For those adventurous cooks out there, this is a wonderful way to spend a winter or spring day.
Golfing


Let us drive you to some of the best golf courses in Africa, and then relax at the 19th hole and let us drive you back!
False Bay Shark Diving

False Bay is recognised by National Geographic and Discovery Channel as one of the world's most amazing viewing sites for watching the Great Whites.

Read More About This Tour
Khwa ttu Tour

!Khwa ttu, the San Education and Culture Centre, offers you the unique experience of being introduced to the world of the descendents of the first indigenous people of southern Africa..
Whale Watching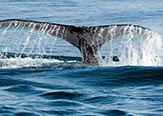 Experience the majestic view of whales as they grace the shores of our southern beaches, during their annual migration season.

Read More About This Tour
Blue Train

The route between Pretoria and Cape Town is a 27-hour journey of 1 600 kilometres (994 miles), through some of the most diverse and spectacular scenery offered by the African sub-continent.
Scootours

Explore Cape Town a little differently and go on an off road adventure with scooters.
Kayak To The Penguins

Embark on a guided tour on stable kayaks and go visit the Boulder Beach penguins.
Snorkel With The Seals

For the ultimate oceam wildlife experience, go snorkeling with the seals in Cape Town