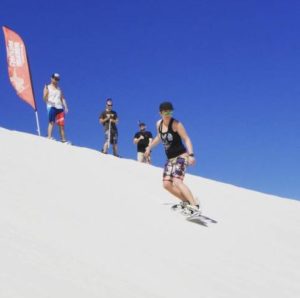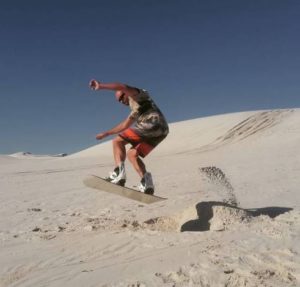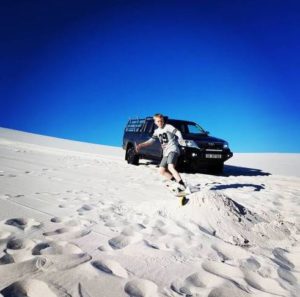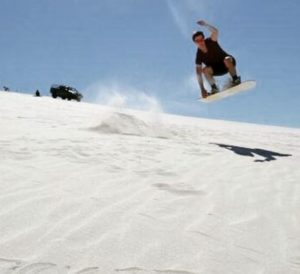 You don't have to wait until winter for your next boarding adventure! Get your adrenaline pumping with a sandboarding excursion in Cape Town.
Sandboarding Cape Town can offer you the coolest experience of your South Africa vacation! Try this awesome spring and summer sport on your next trip to Cape Town.
Your 4X4 dune surfing trip will begin with a truck ride through the dunes to the perfect sandboarding slopes. Once you arrive, jump out of the truck and strap on your board!
The experienced Sandboarding Cape Town team will give you a lesson and some pointers before you get sandy on the slopes.
Before you know it, you'll be taking an exhilarating ride down a long sand dune!
You don't have to stick with just downhill rides. If you're brave enough, you can try tricks like 180 spins and ramping! You can even try a backflip, if you like.
If you've ever done wakeboarding, skateboarding, surfing, or snowboarding, you'll be sure to love dune surfing. If you've never touched a board in your life, then you're in for a treat! Sandboarding is a fun extreme sport that burns a ton of calories and provides awesome photo ops. It's great for beginners, but experts will have a blast, too!
Sandboarding Cape Town's Ultimate 4X4 Sandboarding tour begins with 15 minutes of basic training, including instructions and basic safety guidelines. It also includes the equipment you need and up to three hours of sandboarding. In addition, you'll get to ride to the dunes in a 4X4 truck!
The truck ride is almost as fun as the sandboarding itself. You'll get the chance to bounce and zoom through the dunes, winding through huge sand piles and bounding up and down the hills. It doesn't get better than this!
To prepare for your sandboarding experience, be sure to dress right. Remember, you'll be in the sand, sun, and wind for three hours. A t-shirt or tank top and athletic shorts constitute your best outfit choice. Also wear a hat, socks, and trainers. Don't forget the sunscreen! The sun reflects intensely off all that sand.
Please keep in mind that this is a spring and summer sport. Sandboarding only works when the sand is dry.
This activity is designed for groups of four and up. If you have fewer than four people in your group, you may be able to join with another group. Please contact the provider for more information about group sizes.