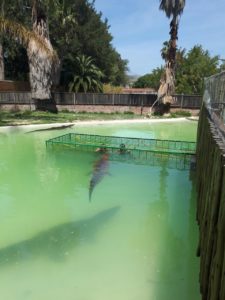 If you've ever had the urge to get up close and personal with a crocodile, here's your chance! African Crocdive gives you the chance to get within touching distance of the infamous Nile crocodile. See these crocs in their natural habitat from the safety of a steel cage! You'll be in the water with them, but you'll be protected from the powerful jaws that make this creature such a formidable predator.
This activity is on the same epic level as a shark dive! Your friends might not believe you when you tell them that you dove with Nile crocodiles. Get your heart pumping as you see these mighty beasts swim through the water just inches from your nose!
African Crocdive has two different croc-viewing options. First, you can do an immersion dive. Take a dip into the crystal-clear water to get an experience of the crocodiles' world! This activity involves going underwater in a steel viewing cage. You'll be able to hear the swish of the crocodiles' tails, feel the energy as they move through the water, and (if you're brave), tough their scaly skin. As you watch, croc handlers will feed and interact with the crocodiles. Within the cage, a staff photographer will take photos and videos of you so that you can have a memento of your incredible croc experience!
Alternatively, you can save your hairdo and get a long look from Crocdive's dry viewing box. This is like visiting an aquarium, except you'll be the one in the box! Stay dry as you walk through this submerged room. You can see the crocodiles interact with divers and take photos or videos with your camera. This activity lasts for 30 minutes.
Crocdive provides everything you need to have an incredible crocodile experience. All the diving equipment you need is included in the price of the activity, including masks, second-skins, and booties. Additionally, showers are provided for all divers.
When you're done with your experience, you can relive your awesome encounter by looking though the photos and videos. Grab lunch at the café and hang out a while! You can also watch the crocs from dry land. If you're lucky, you might get to hold a baby Nile crocodile.
African Crocdive is located in Paarl, Western Cape, about half an hour's drive from Cape Town. The experience is part of Le Bonheur Crocodile Farm, which is home to a thousand crocodiles! Come visit African Crocdive and see these mighty beasts for yourself. This is as close as you'll ever get to a Nile crocodile… and live to tell about it.